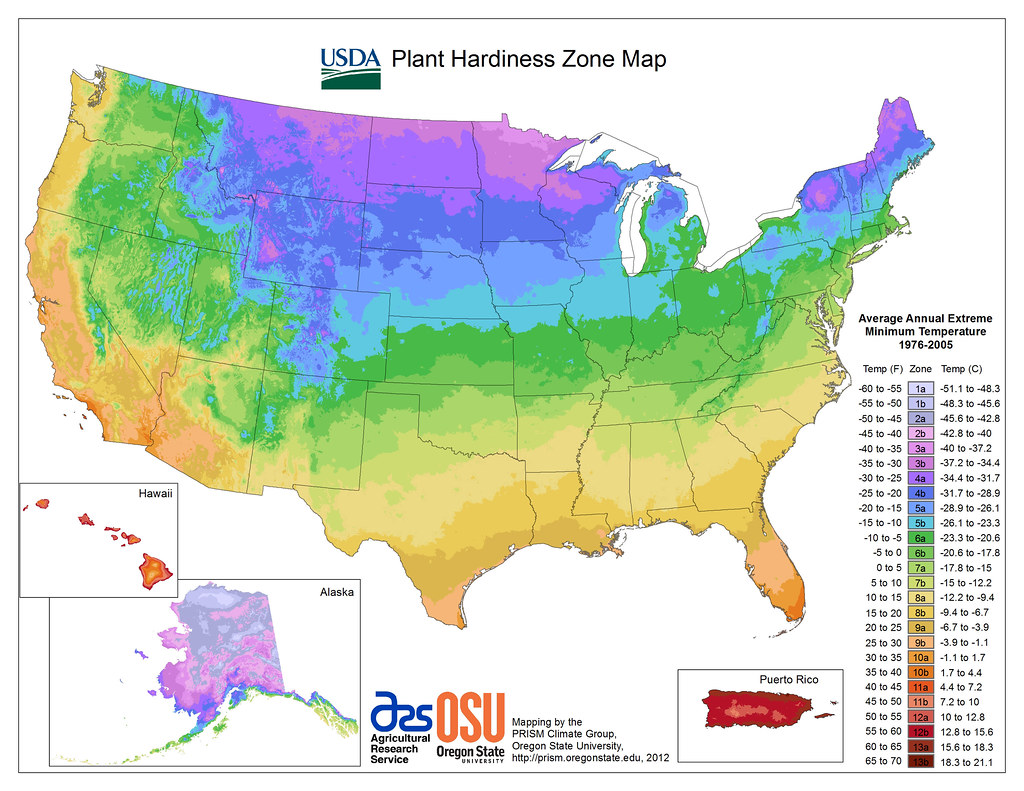 In the High Desert we can range anywhere from USDA zone 8a to zone 9b. The 2012 Sunset Western Garden book currently places us at Sunset Zone 11, though we had previously been placed at zone 10 in the 2001 version. This leads to plenty of confusion when choosing plants to beautify our landscapes. I hope to demystify this widespread confusion.
What does "hardiness zone" mean?
A hardiness zone is an estimated amount of days that a location experiences a certain level of cold temperature. A plant with a hardiness zone of 7 means that it will survive the cold winters of areas that have been estimated as zone 7.
What "hardiness zone" does NOT mean
Hardiness zones do not take into account the high temperatures that the zones might experience. This is where the High Desert is an anomaly. We experience high temperatures like any other desert, but we also experience freezing temperatures in the winter. This makes for difficult interpretation of plants ability to survive.
AHS Heat Zone Map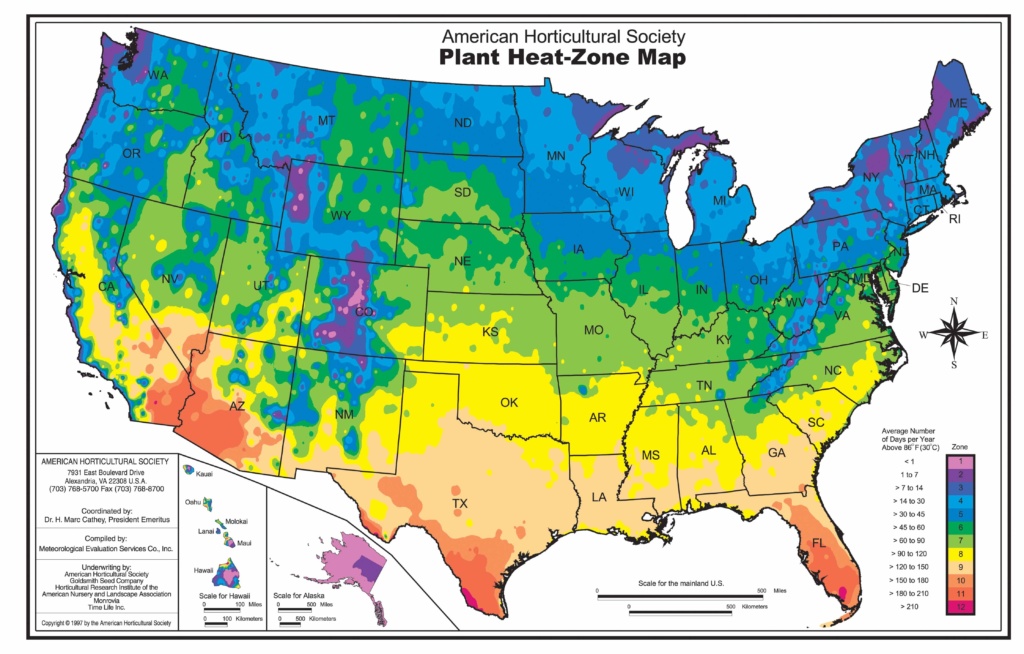 The American Horticultural Society has begun the implementation of a heat zone map to indicate a plant's ability to handle a certain amount of days over 84° F. While not currently available, this will be the indicator that makes plant selection more accurate for us. You may see this mentioned on a few selection of plants sold by Monrovia Gardens at big box stores.
Microclimates and what to consider when growing "borderline" plants
If a plant is in USDA hardiness zones 3-8, you can deduce that they can get very cold, but heat might be an issue for us in the High Desert. This might not be a fantastic plant to place in the middle of your dirt lot with no protection from the afternoon sun or the harsh wind. This would be a plant that would benefit from afternoon shade from a building or larger tree.
On the flip side, if you have a plant that is great for USDA hardiness zones 9-12, you can deduce that heat and sun shouldn't be a worry, however cold tolerance may be an issue. This can be handled by planting it near a building that retains heat. South facing walls, retaining walls, bricks, asphalt, etc. can retain a significant amount of heat that will help nearby plants to deal with the cold nights. Mulching the plants can help as well. As a last resort, covering or protecting plants on nights that might drop below the prescribed cold tolerance can help the plant to make it through the colder nights throughout the winter.
Microclimates in the High Desert that kill borderline plants
The High Desert has plenty of climate issues that keep plants from growing that might otherwise thrive. Here is a list of things you might want to think about protecting your plants from:
Wind
Afternoon Sun and Heat
Cold Nighttime Temperatures
Alkaline Soil
Wind can be dealt with by sheltering plants with a windbreak (plants, fences, walls, buildings, etc.)
Sun and heat can be dealt with by planting under trees, balconies, overhang on house, pergolas, etc.
Temperatures can be dealt with through planting near buildings, south facing walls, asphalt, brick, retaining walls, and porches.
Alkaline soil can be handled by amending the soil at planting time with peat moss and acidic fertilizer, and by fertilizing regularly with acidic fertilizer throughout the growing seasons.
Specific Plants and Their Needs
Japanese, Silver, Autumn Blaze, Trident and Red Maples all need wind protection and if possible some sun protection
Azalea, Hydrangea, Camelia, Japanese Maples, and many more need acidic soil and sometimes sun, wind, and cold protection.
Plants that break the hardiness zones
Here is a list of plants that supposedly do not grow here based upon hardiness zones. I have witnessed all of these trees growing in the ground in Apple Valley, CA in several locations.
The High Desert zones as stated by USDA Hardiness Zone Map and Sunset Western Garden Book:
USDA Zone: 8b – 9a
Sunset Zone: 11 (previously listed as 10)
California Pepper Tree – USDA zones: 8-11 | Sunset zones: 8, 9, 12-24
Coast Redwood – USDA zones: 7-9 | Sunset zones: 4-9, 14-24
Deodar Cedar – USDA zones: 7-9 | Sunset zones: 3B-10, 14-24
Crape Myrtle – USDA zones: 7-10 | Sunset zones: 2-10, 12-24
Colorado Blue Spruce – USDA zones: 2-7 | Sunset zones: 1-10, 14-17
Lantana – USDA zones: 8-11 | Sunset zones: 8-10, 12-24
Pineapple Guava – USDA zones: 8-10 | Sunset zones: 6-9, 12-24
Lily of the Nile – Agapanthus – USDA zones: 8-10 | Sunset zones: 4-9, 12-24
American Arborvitae – USDA zones: 3-7 | Sunset zones: 1-9, 15-17
Sadly the hardiness zones are not much of a help for us High Desert folks. The hardiness zones cause more confusion than competence. This requires a higher understanding of our plants to have success in growing plants that are more than capable of growing here.